Laboratory of Optical Spectroscopy
Research of molecular structure by Optical Spectroscopy
Address: Azatutyan ave. 26 Yerevan 375014, Armenia
Tel: (37410) 287423 Fax: (37410) 282267 E-mail: tkurt@msrc.am
---
Garik Martirosyan

Hayk Haroutunian

Astghik Hovhannesyan

---
Collaboration
Prof. Peter C. Ford University of California, Santa-Barbara, CA, USA

Prof. John A. Goodwin Coastal Carolina University, SC, USA

Dr. Steve J. Ogden Southampton University, UK

Prof. Luidwig Brehmer Potsdam University, Germany

Dr. Joel Massetti University of Bordo, France

Prof. Gleb B. Sergeyev Moscow State University, Russia
In Laboratory different dispersive and Fourier IR, Raman, and UV-Vis spectrometers for all ranges of optical spectrum are available.
Kurtikian S. Tigran (1946) - Head of laboratory, doctor of chem. sciences (Moscow, Institute of Elementorganic Compounds, Ph.D. Thesis: "The Investigation of The Interaction Steams of The Transition Metals with Unsaturated Compounds by The Matrix Isolation IR Spectroscopy Method" (1978). Doctor Thesis:"Structural Pecularities of Metalltetraarylporphyrins Sublimed Layers and their Coordination Properties" (1998, Moscow State University)
- Vibration (IR and Raman) and electronic absorption spectroscopy of organic and coordination compounds, matrix isolation spectroscopy and spectral, electrophysical and catalytic properties of metalloporphyrins.
Martirosian Gagik (1963) - senior scientific researcher, (1998, Ph.D., Institute of Chemical Physics of National Academy of Sciences, Armenia))
Equipment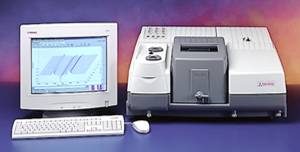 FT IR Spectrometer Nexus
---
Last Update: May 8th, 2007
By: Tigran Kurtikyan (tkurt@msrc.am)